USIG Staff - June 2023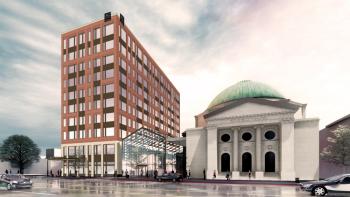 Detroit, renowned for its rich history and vibrant cultural scene, is set to welcome a new addition to its growing hospitality sector. Construction has begun on the first AC Hotel in southeast Michigan at the esteemed Bonstelle Theatre site. The joint business venture between Walter Cohen, a seasoned developer, and Detroit-based real estate firm Roxbury Group marks a significant step forward in Detroit's ongoing investment and revitalization efforts. 
The developers of this $49 million project envision a fusion of modern luxury with elements of Detroit's rich architectural heritage, as the historic facade of the neighboring Bonstelle Theatre will be preserved and incorporated into the hotel's design. Moreover, the proximity of the AC Hotel to the Bonstelle Theatre is of great significance. The theater has long been considered a cultural landmark in Detroit, known for its contributions to the performing arts.
In a commendable move, the developers have committed to maintaining and integrating elements of the Bonstelle Theatre's historic facade into the new hotel's structure. This thoughtful approach ensures the preservation of Detroit's architectural heritage while blending it seamlessly with contemporary design, further enhancing the city's accommodation offerings for visitors. 
The presence of a modern hotel in such close proximity to the Bonstelle Theatre will undoubtedly contribute to the ongoing cultural and economic revitalization of the area. The hotel's guests will have convenient access to Detroit's cultural offerings, enabling them to explore and engage with the city's vibrant arts scene. As the hotel takes shape, it is poised to inject new life into the local economy, create job opportunities, and further contribute to the ongoing cultural resurgence of Detroit.