USIG Staff - May 2023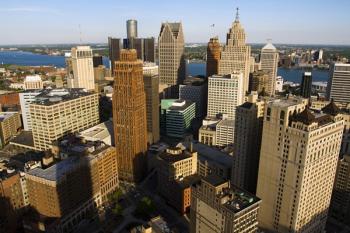 The Detroit Regional Partnership (DRP) has been instrumental in fostering economic growth in the Detroit region. According to the DRP's newly released annual report, their collaborative efforts resulted in the creation of 5,200 new jobs and facilitated a significant investment of $2.4 billion throughout the year 2022. 
Fostering Economic Growth: The Detroit Regional Partnership, a public-private economic development organization, played a crucial role in driving economic growth and expanding job opportunities in the region. The organization collaborated with various stakeholders, including businesses, government agencies, and educational institutions, to create a favorable environment for investment and job creation. By nurturing a supportive ecosystem, the DRP has encouraged the convergence of technology, manufacturing, healthcare, and other sectors, fostering cross-pollination of ideas and driving breakthrough innovations. This approach has positioned Detroit as a hotbed for cutting-edge research, development, and entrepreneurial activities, attracting forward-thinking companies seeking to thrive in an environment that encourages and supports innovation.
Creating High-Quality Jobs: The DRP's collaborative efforts have significantly contributed to the creation of 5,200 new jobs in the Detroit region. These jobs span a diverse range of industries, including advanced manufacturing, autonomous vehicles, mobility, and information technology. The emphasis on high-quality employment opportunities ensures that the residents of Detroit can access rewarding careers and secure their futures in an evolving job market. The DRP's success in job creation reflects its dedication to cultivating a skilled workforce that meets the demands of emerging industries.
Attracting Investments: Attracting Investments and Cultivating Entrepreneurship: Detroit's economic revitalization has been further propelled by the DRP's success in attracting substantial investments. The $2.4 billion garnered in 2022 demonstrates the confidence that businesses and investors have in the region's potential. These investments have fueled the growth of both established companies and startups, driving job creation, fostering entrepreneurship, and reinforcing Detroit's reputation as a thriving business ecosystem. The DRP's proactive efforts in connecting investors with promising ventures and facilitating access to capital have been crucial in sustaining this momentum. The investments spanned a wide range of industries, including automotive, technology, manufacturing, and healthcare, among others. This influx of capital not only creates jobs but also boosts the overall economic prosperity of the region.
Conclusion: Through DRP's visionary leadership and collaborative approach, Detroit continues to emerge as a thriving hub of innovation and growth. The creation of 5,200 high-quality jobs and the attraction of $2.4 billion in investments during 2022 highlight the city's evolution into a destination of choice for businesses and entrepreneurs. By fueling innovation, cultivating entrepreneurship, and attracting investments, the DRP has laid the foundation for Detroit's continued transformation. As the city embraces its role as a center of innovation, Detroit is poised to redefine itself as a dynamic and prosperous ecosystem, providing its residents with a future brimming with opportunities and driving economic growth for years to come.