USIG Staff - May 2023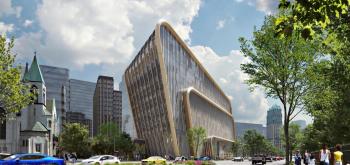 The University of Michigan announced its plan to construct a new research and education center in Detroit, as part of their commitment to fostering a thriving ecosystem of innovation and entrepreneurship in the city. In collaboration with real estate billionaire Stephen Ross, the university unveiled their proposal for a new innovation center that fosters collaboration, supports startups, and accelerates technology commercialization. Formerly known as the Detroit Center for Innovation, the University of Michigan Center for Innovation (UMCI) presents a unique opportunity to attract investment, nurture talent, and position Detroit as a hub for innovation.
Pending approval by the U-M Board of Regents, the university will construct the facility to fit its specifications, needs, and academic and community programming. A critical objective of the UMCI is to bridge the gap between research breakthroughs and practical applications. By facilitating technology commercialization, the center will help transform cutting-edge research into market-ready products and services. Industry collaboration will be a key driver, as the center actively engages with industry partners and investors to leverage commercialization opportunities. With an emphasis on nurturing startups, the center will provide valuable resources, mentorship, and networking opportunities to empower emerging businesses and create a robust entrepreneurial ecosystem in Detroit.
The university's recognition of Detroit's potential as an innovation powerhouse will further attract skilled professionals, stimulate job creation, and reinforce the city's reputation as a center for transformation. Moreover, the UMCI's establishment is set to attract substantial investment from external sources. Venture capitalists, angel investors, and industry leaders are expected to be drawn to the vibrant ecosystem being created, which will offer promising investment opportunities. The infusion of external investment will not only fuel the growth of startups but also contribute to Detroit's overall economic revitalization.
The University of Michigan's commitment to the new innovation center is demonstrated through substantial financial backing. The university plans to invest millions of dollars into the project, providing the necessary resources and infrastructure to drive its success. This significant financial commitment signals the university's confidence in the economic potential of the center and its dedication to Detroit's long-term growth. The $250 million, 200,000-square-foot innovation center is intended for the site between Cass and Grand River avenues and West Columbia and Elizabeth streets. 
By harnessing the collective potential of academia, industry, and the community, the UMCI will further cement Detroit's emergence as a dynamic hub of opportunity, in turn making a transformative impact on Detroit's economy.