USIG Staff - December 2018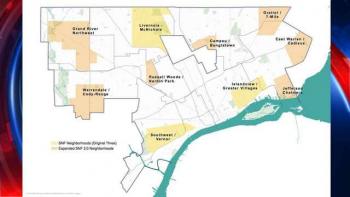 Detroit mayor Mike Duggan announced a major investment in Detroit's neighborhoods earlier this month. The leaders of 7 companies joined the mayor during his announcement, representing: Huntington Bank, Chemical Bank, Fifth Third Bank, Flagstar Bank, Penske Corporation, and Blue Cross Blue Shield of Michigan. Each company announced they would be investing $5 million in 7 neighborhoods on both sides of the city. According to Fox 2 Detroit: the neighborhoods are: Grand River Northwest, Jefferson Chalmers, Russell Woods/Nardin Park, Campau/Banglatown, Warrendale/Cody-Rouge, Gratiot/7 Mile, and East Warren/Cadieux. The funds will be spent on affordable housing, renovating vacant buildings, and improving commercial storefronts. The mayor explained that this was the blueprint for success in Midtown, and that the city was looking to implement the plan city-wide. Many of these neighborhoods have had issues with blighted properties and vacant commercial storefronts. Warrendale/Cody-rouge, one of the largest neighborhoods in the city, is a great example of a neighborhood that will benefit greatly from this funding. With over 25,000 housing units, the area was overrun with foreclosures in the wake of the financial crisis of 2008. 
For years, tens of millions of investment dollars have been pouring into Detroit's city center known as "greater downtown." However many Detroiters have complained that while the city center was going through a renaissance, the rest of the city wasn't feeling the positive effects of these investments. With downtown/midtown real estate prices going through the roof, the need for affordable housing and strengthening existing residential neighborhoods became even more essential. Investments like this will encourage more homeowners to consider staying and moving into these neighborhoods, which will have a tremendous effect on property values. City leaders hope that this initial step will create another $70 million in investment.