USIG Staff - July 2023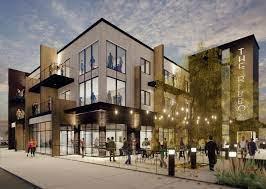 In a promising development for the East English Village community, construction has officially commenced on "The Ribbon," an innovative $8 million mixed-use affordable housing project. In a collaborative effort between LISC Detroit, Invest Detroit, and other key partners, the project is aimed at addressing the pressing need for affordable housing options in the area.
"The Ribbon" represents a significant step forward in revitalizing the East English Village neighborhood, which has long been seeking ways to enhance its residential and commercial offerings. The project's name, "The Ribbon," reflects the vision of weaving together a cohesive fabric that will bring residents and businesses together to foster a thriving and interconnected community. 
A significant portion of the development will be dedicated to providing housing options at affordable rates, making it more accessible for individuals and families of various income levels to find a safe and comfortable place to call home. Moreover, the project's commitment to affordability extends beyond its initial completion. Thanks to a joint effort between its investors, "The Ribbon" is set to maintain its status as an affordable housing development for the next 25 years. This long-term approach ensures that the community's needs for affordable housing will be met well into the future. Additionally, the space will feature retail on the first floor, along with a brick-and-mortar location of Gajiza Dumplings, a local foodie favorite. 
"The Ribbon" is expected to have a positive impact on the East English Village neighborhood, attracting new residents and businesses while providing existing community members with a host of amenities and opportunities for growth. By creating a dynamic mixed-use space, the project aims to enhance the overall quality of life for all residents, fostering a sense of pride and unity within the community. Local officials and community leaders have expressed enthusiasm about the project's potential to transform the neighborhood positively. 
The new development aligns with the city's broader vision for sustainable urban growth, creating a model for future affordable housing initiatives in Detroit and beyond. As construction begins on "The Ribbon," the community eagerly anticipates the transformative effects it will bring to East English Village.