USIG Staff - June 2018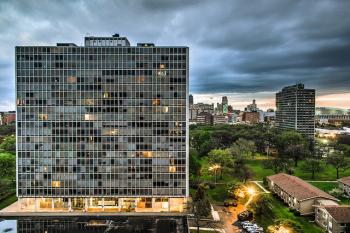 Just a few years ago, there wasn't even one major supermarket brand within the city limits of Detroit. Now, with a major overhaul of Detroit's Lafayette Park underway, Detroit will be home to 3 Meijer supermarkets. Meijer, a regional supermarket giant, took a risk on the city when it opened their first store on the corner of Woodward and Eight Mile. Following the success of that store the company soon opened a store on McNichols and Grand River, on the city's northwest side. While it may seem like a small step, Meijer's move to Detroit signaled a shift in how larger retailers and national brands view the city. No one expected brands like Whole Foods to open in Detroit but it happened. 
Lafayette Park is one of Detroit's most notable neighborhoods. According the Detroit Free Press, it has been referred to as one of "America's most successful post-World War II urban redevelopment projects." The neighborhood sits on land that used to be part of Detroit's famed Black Bottom neighborhood, the cultural epicenter of the city's African American community. The neighborhood is situated just east of downtown Detroit, and north of the riverfront. 
Several neighborhoods in "greater downtown" have seen an uptick in new residents over the past few years, in contrast to the city's overall trend of population loss. The city hopes Lafayette Park will be the latest neighborhood to attract new residents. With thousands of young professionals working downtown, there will be a need for more affordable housing just outside of the city center. Over the next few years, there will be 5 new residential development projects to choose from as well as new commercial space, anchored by the Meijer supermarket. The aim is to count Lafayette Park as one of Detroit's "20 minute neighborhoods" where residents can have access to everything they need within a short walk or drive. Follow US Investor Group's Detroit Investment News page to stay up to date on the latest developments across the city.