USIG Staff - July 2018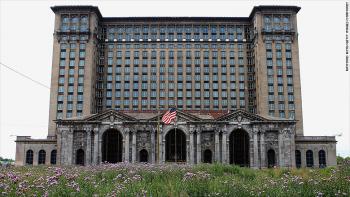 Ford is definitely investing in Detroit real estate in 2018.
When people around the world think of Detroit, the first thing that typically comes to mind is: cars. It is after all, the Motor City. Long home to the "Big 3," titans of the automotive industry: Ford, General Motors and Chrysler. It's fitting that one of those giants has just announced one of the most important developments in Detroit in over 20 years. Ford has acquired and will renovate the iconic Michigan Central Station. A grand, historic structure that dates back to Detroit's time as the manufacturing capital of the world. Built in 1913, the train depot was designed by the same firm that worked on the Grand Central Station in Manhattan. The building has sat vacant for decades now, left crumbling by years of neglect and vandalism. It was Detroit's most famous building. Even as a derelict structure, the station would attract tourists and even newlyweds taking wedding photos in front of its famous entrance. 
Ford announced that it will keep the lobby open to the public, news that was welcomed with smiles from metro Detroiters. The massive undertaking will cost Ford upwards of $300M according to estimates. The station was sold to Ford by the Maroun family, which also owns the Ambassador Bridge connecting Detroit to Windsor, Ontario. The station is located in Detroit's Corktown neighborhood, known as one of the city's oldest. The area used to be home to Tiger Stadium, which also closed down in the late 1990's. In recent years, Corktown has witnessed a population boom, with many young professionals and suburbanites moving to the area to find affordable housing close to downtown. Ford has plans to make the station the center of a larger campus which will be home to hundreds of Ford employees.