USIG Staff - November 2020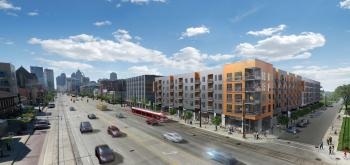 The coronavirus pandemic continues to ravage the United States, with cases surging in nearly every state. Michigan is no exception and the state's Governor, Gretchen Whitmer, has implemented another 3 week shutdown aimed at slowing the spread of the virus. Despite this grim reality, the real estate market in Metro Detroit continues its bullish run. Property values continue to rise and inventory remains scarce. The historically low interest rates have presented a unique opportunity for both buyers and developers. Development projects are moving forward with full steam despite concerns of a COVID induced economic downturn. 
Detroit based real estate developers The Platform and Queen Lillian announced that they are proceeding with the Woodward West project. The $60 million mixed-use development is located right in the heart of Detroit's Midtown neighborhood. It will feature 204 apartments and 25,000 square feet of retail. The project is set to be completed in the summer of 2022 according to the Detroit News. There aren't very many undeveloped parcels of land along Woodward Avenue in the greater downtown area so this is great news for the city. As the case with many new projects, a portion of the apartments will be allotted to affordable housing for those that qualify. 
With more people moving into downtown and its surrounding neighborhoods, there is a growing need for retail and grocery options. In late October, regional supermarket giant Meijer announced that is was breaking ground on a new 42,000 square foot grocery store on the city's east side near the Rivertown neighborhood. This marks the 3rd Meijer store to open within the city limits over the past few years. Previous to Meijer's foray into Detroit the city had gone years without one major grocery store. On the retail side, many national brands have opened within the city limits in recent years as well. Nike, Lululemon, Under Armour, and H&M have all opened locations along Woodward Avenue in the center of downtown Detroit.